Christmas in Fairswood Lodge
The Lodges | No 1 Fairswood | No 2 Fairswood | Christmas | Book Now
Beautifully decorated throughout the festive season, Fairswood Lodges are the perfect Christmas holiday lodge for 2 adults. Treat yourself to a pre-Christmas countryside break, a visit the Bath Christmas Markets or a Christmas - New Year holiday.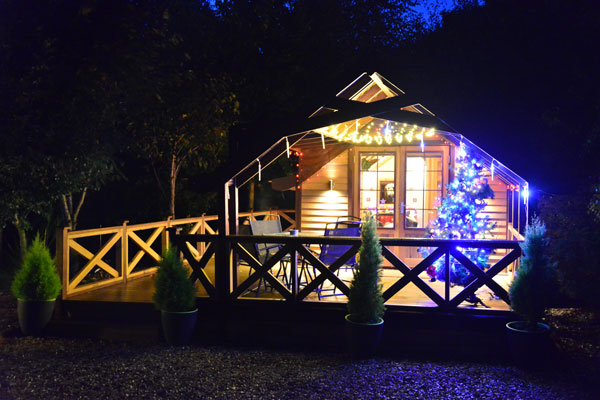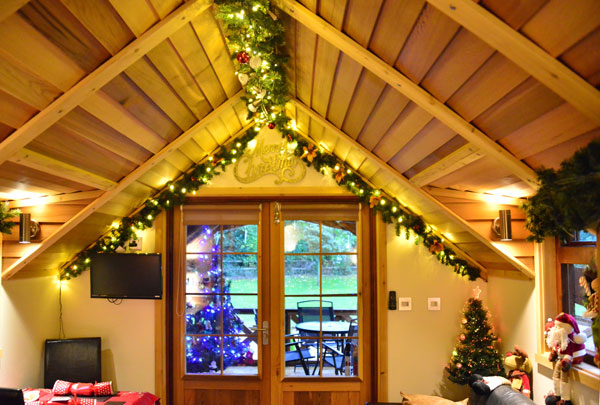 It will be cosy this Christmas in our Fairswood Lodges. Set at the edge of a woodland nature trail, you will look out over our award-winning park, festively illuminated with Christmas lights. No 1 Fairswood has a powerful heater so you can enjoy the vista sitting out on the veranda with a glass of mulled wine.
Inside, the lodge is fully self-contained, including microwave, refrigerator, kettle, bed-linen, etc., and a few extra festive touches you're sure to appreciate.

Chew Valley is a great location for traditional Inns, fine country restaurants and convenient take-aways. So there's a Christmas menu for every taste and budget, ranging from a nearby Michelin Star restaurant to our local Red Lion Inn, only 250 metres from the lodge park.
Please note that the decorations vary from these pictures, but you won't be disappointed.
Learn more about Christmas at Fairswood Lodges or click here to book online.