Car Hire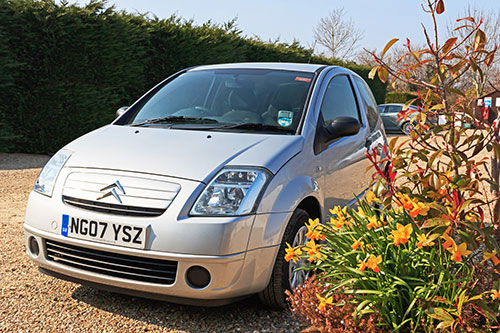 The car
The car is a Citroen C2 a compact, three-door town car, ideal for navigating to local villages, cities and attractions. This is ideal for motorhome owners who want to explore while leaving their van on site.
Who can hire the car?
The rules are very simple, drivers must...
• be over 25 and under 75
• have held a full UK driving licence for at least two years
• have no more than one endorsement in the last three years
• have no more than one claim or accident in the last three years
...a full list of exclusions is available on request
What documents do I need?
You need to fill out an online form, which we will send to you shortly before your booking. You need to provide a photo or scan of your driving licence, as well as a DVLA check code, which you can get from here. You also need to provide two proofs of ID/address, such as a utility bill or bank statement. The full details of the required documents for both SECTION A & SECTION B are listed below.

How do I book the car?
It's best to book the car early, there's no need to wait until you're on site. Just email or call Reception on 01275 332 127 (9am-5pm). You can also book the car after you've arrived, but you still need all of the required paperwork.
What does it cost?
Prices start from just £7 per hour, £25 for 6 hours or £40 for a day, with 3 days for £95, a week for £175, and further discounts for longer bookings. The car should be returned with the same petrol level as when you take it, or it's 40p per mile for what you've used.
Please note that dogs are not allowed in the car.