Car Hire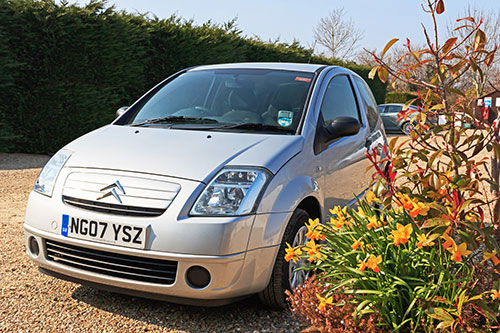 The car
The car is a Citroen C2 a compact, three-door town car with air-conditioning and central locking, ideal for navigating to local villages, cities and attractions.
Who can hire the car?
The rules are very simple, drivers must...
• be over 21 and under 75
• have held a full UK driving licence for at least one year
• have no more than one endorsement in the last five years
• have no more than one claim or accident in the last five years
...a full list of exclusions is available on request
How do I book the car?
You can reserve the car at Reception. If you want to be sure that it is available for a particular day you can do this when you book your pitch, there is no need to wait until you are on site. Just phone Reception on 01275 332 127.
What documents do I need to bring?
You need to bring your plastic photocard (or the full licence if it is an older, paper only licence) to Reception so that we can take a copy for our insurance records. You can also bring a printout from the new DVLA website or the sharing code (which must be less than 72 hours old), click here for details, or we can use the premium rate DVLA licence check phone line (which operates at restricted times). The rest of the paperwork is provided at Reception & consists of less an a dozen questions & a few signatures.
What does it cost?
Prices start from just £4 per hour with discounts for half or full day bookings, along with 3 to 7 day rates, it will be provided with half a tank of petrol and should be returned in the same condition.
For full details visit the Bishop Sutton Car Club website.