Welcome Dogs and Pets Policy
Bath Chew Valley Caravan Park welcomes guests who enjoy travelling and sharing caravan holidays with sociable, well-behaved family dogs, cats or other pets.
A maximum of 2 pets per pitch may be brought free of charge. We have an on-site dog walk and provide guides to dog friendly attractions and nearby dog excercise walks.
Please read and abide by the pet rules on this page which form part of your booking terms and conditions.
The pet exercise area extends over 150 metres along two sides of the park, conveniently accessible on either side. Pet waste bags, disposal bins and drinking bowls are located at dog walk entrances. All pet waste must be placed in these, not in domestic refuse bins.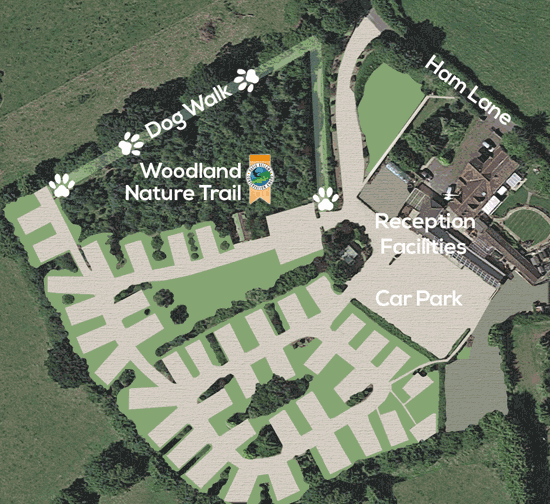 Pet Supplies:
Dog and cat food is available from the village shop, together with toys for their amusement. We keep a small emergency supply of pet food & bowls in reception.
Veterinary Services
There is a Vetinerary Surgery in Chew Magna about 3 miles from the park:
The Vinery, Harford Square, Chew Magna BS40 8RE Tel: 01275 332 442. If at any time you need assistance with your pet please contact reception.
Pet Rules
We hope that all our guests will have a safe and enjoyable stay with their pets, please adhere to the following:
1) Breeds of dogs listed in the Dangerous Dogs Act 1991 or derivatives are not accepted. If any pet exhibits agressive, protective or unfriendly behaviour toward other guests or their pets, you may be asked to find it alternative accommodation or leave the park.
2) All pets are required to be under the control and visual observation of their owner at all times. No pet should be left tied up and unattended on the owner's pitch, or left in a car or inside your unit when you are not there.
3) Animals must be kept on a lead no longer than 2m at all times whilst in the park grounds.
4) Please try to ensure your pet does not foul anywhere on the park other than the dog walk. Always clean up after your pet, bag waste and dispose of it in the 'doggie' bins provided. Please do not dispose of pet waste in domestic refuse bins.
5) Allowing your pet to bark uncontrollably, day or night, will not be permitted. You may be asked to leave.
6) Only guide or assistance dogs are permitted in the toilet block or other buildings.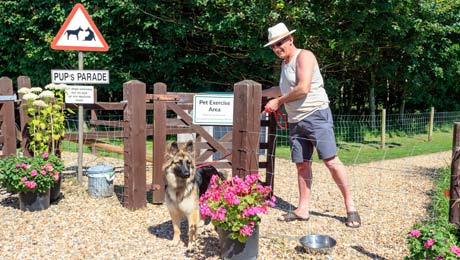 Dog friendly caravan park in Somerset